| | |
| --- | --- |
| DOVER (THYSSENKRUPP) Rotary | Cylinder Head Packing |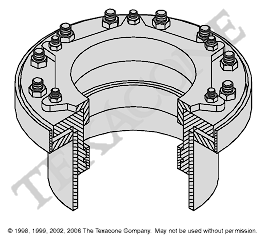 Cylinder Head Identification
PLUNGER SIZE

PACKING SET

PACKING SEAL
(2 required)

SPLIT AUTOPAK SET

4-3/8" *
3EA023-01
6E206SF
1AT084-01
5-7/16" *
3EA023-02
6E219SF
1AT084-02
6-1/2" *
3EA023-03
6E208SF
1AT084-03
7-1/2" (7S)
3EA023-04
6E029
1AT084-04
8-1/2" (8S)
3EA023-05
6E030
1AT084-05
9-1/2" (9S)
3EA023-06
6E039
1AT084-06
10-5/8" (10S)
3EA023-07
6E042
1AT084-07
12-5/8" (12S)
3EA023-08
6E041
1AT084-08
15-3/4" (15S)
3EA023-09 **
3E042
1AT084-09 **
* Packing sets and seals are for Dover Rotary Lift Units manufactured prior to 1955. After 1955, see Dover Rota.
** Wiper not available.
Autopak is the recommended replacement packing.
Older units use babbitted bearing. Newer units use split plastic wear ring which is available on request.
After 2006, packing box is shorter and requires one seal.
May require gasket (not included) if completely disassembled.

Solid Packing Set



Split Autopak Set



Optional